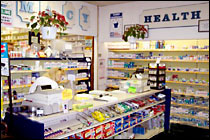 INTERACTIVE VOICE RESPONSE (IVR)
Automated telephone anwering system giving customers the option of calling for refills while allowing the pharmacist to continue excellent in store service.
Seamless integration to VIP Pharamcy Software and its refill processing.
Customized store parameters can be changed at any time.
Automatic fax to doctor if no refills available.
Process orders with one keystroke.
Calls automatically answered day & night OR night only for after hours
Quickly route caller to a pharmacist or other store personnel
Physician by-pass of refill process.
List store hours, vacation schedules, driving directions, etc.


VIP NEWS

Click on headlines to read complete story

---

VIP Computer Systems, Inc. | 138 N. Churton St | Hillsborough, NC, 27278 | (919) 644 - 1690